Copyright © 2011, 2012, 2013 FullWave, LLC. All rights reserved.


New!

MeterBuilder MB-1 vs. the Competition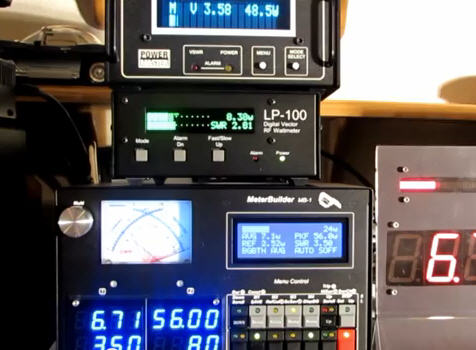 MeterBuilder MB-1 Programmable RF Power Meter

The Most Flexible RF Power Meter Available
Also New - Blue 7-segment LEDs now included

with Expansion Kit (for orders placed after 5-1-2013)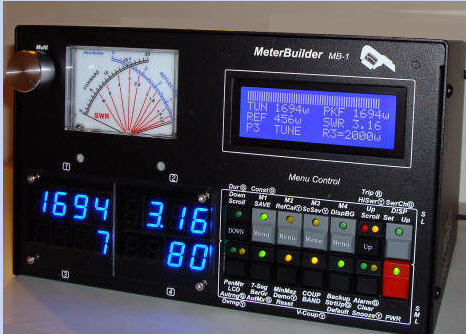 Why settle for a power meter with only one or two power measurement modes?

MB-1 is the only Digital Power Meter with three distinct power modes:


1. Tune - Displays instantaneous power - for real time response when

tuning your transmitter, amplifier, or antenna tuner.


2. Peak Power - Faster peak power detection than the competition.


3. Average Power - with sensible time constants to provide meaningful

measurements. The only real way to monitor your "talk power".

And with MB-1's extensive display features, you can display all three

power modes simultaneously if desired.
---

The only Digital Amateur Radio Power Meter with a real time Analog Meter.

A Digital Power Meter that can actually measure and display your "Talk Power"!

Extensive Digital Filtering for stable and repeatable readings.

Display up to Eight different measurement types simultaneously.

Interface your own Analog Meters and Couplers (including Bird Line Sections) to MB-1. This means that your MB-1 supports all of the frequency ranges that Bird slugs support!

Unique with MeterBuilder: 60 Point Calibration Curve -
Calibrate your own couplers to within 1% of any Measurement Reference.

The website and documentation contain lots of overview and tutorial information. With a MeterBuilder MB-1, you get a lot more more than just a power meter!
---
Please note - we are accepting U.S. orders only at this time.
If you are looking for a meter to provide basic functions, there are several simpler alternatives on the market.
But if you are looking for a meter that goes beyond the basics, and if you are the type of Ham who likes to
experiment, customize, and expand the capabilities of your equipment, MB-1 may be a good match for you.
The MB-1 is available in both kit form and fully assembled and calibrated.
The kit requires soldering. The kit also includes a preassembled coupler with DC voltage/power benchmarks,
and therefore requires only a digital voltmeter for accurate calibration. All components are through-hole (no surface mount components to install).
The MB-1 Meter in the picture below is being driven by the Inboard Simulator.

MB-1 Rear Panel

Small Footprint Pre-assembled MB-HF1 Coupler

Nineteen point calibration table is preloaded into MB-1 firmware. Using factory benchmarks printed on each
coupler, a simple multimeter measurement at a single power point is all that is required for final calibration.

Seamless Integration with Bird Line Sections

Use a single HF slug to cover the full legal power limit on all HF bands + 6 meters!


---
MeterBuilder™ MB-1 Features
Extensive Digital Filtering for stable and repeatable readings.
The only Digital RF Power Meter with a Real-Time Analog Meter (can track CW and voice).
Fastest Bar Graph of any Digital RF Power Meter.
Four Fully Programmable 4-Digit Seven Segment LED Displays - Display Measurements, Configuration information, or a combination of both.
Display up to 8 Measurement Types Simultaneously.
Map any Measurement to any Display Device.
Quick, single push button access to commonly used menus.
MB-HF1 Coupler Lineup requires just a DC Voltmeter or Multimeter.
Interactive Hardware Diagnostic Software.
Programmable Simulator for verifying custom Analog Meter calibration and custom Coupler calibration.
Available in Kit form or Fully Assembled and Calibrated. No surface mount components to install with kit.
QRP Operation - Accurate low power measurements, even for power levels < 1 watt. Programmable Full Scale Ranges - 1 watt minimum
FS ranges for Analog Meter and Bar Graph.
---
Unique with MeterBuilder
The Ability to Program MB-1 so that you can directly connect your own Analog Panel Meters and Couplers (Patent Pending) - Eliminates the
need to buy additional (and sometimes costly) couplers if you already have couplers that meets your needs.
Customize your meter by selecting the 7-Segment LED Display colors, Meter Backlighting, and Front panel switches.
Add External Hi Visibility 7-Segment LED Displays and a Hi Visibility Bar Graph LED module for unmatched readability.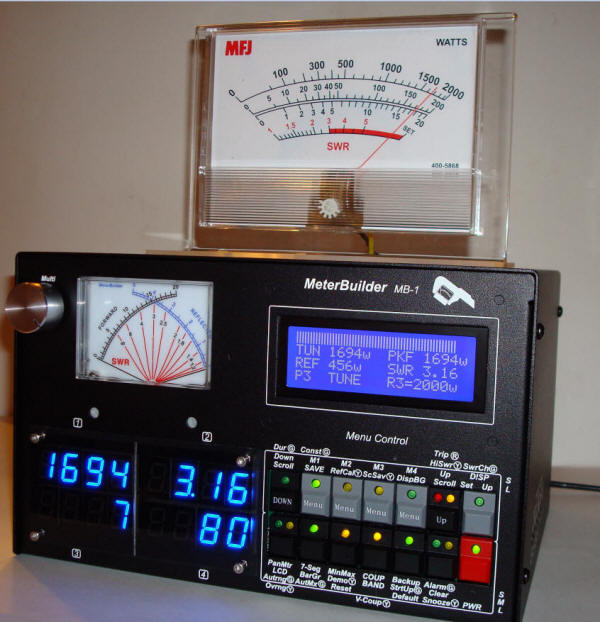 MFJ Jumbo Meter Movement calibrated and being driven by MB-1.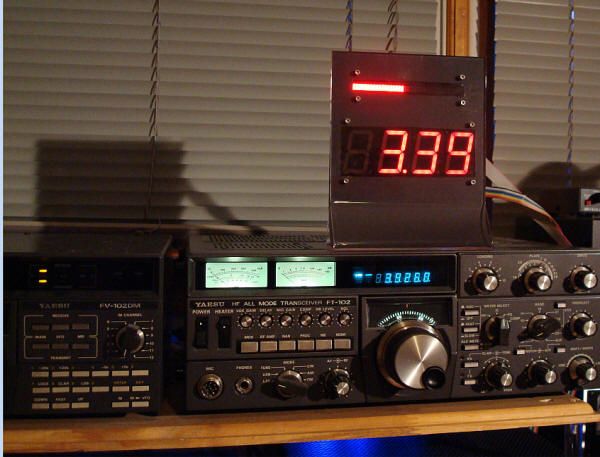 External Displays shown in user-provided enclosure. An inexpensive picture frame is being used above.
(Ghosting of unlit segments is a photo artifact.)
---
Fully Programmable
Advanced Menu Structure and Shortcut buttons simplify operation.
Six user-defined configuration sets plus one Default configuration set -
Save and Restore the entire meter configuration with the press of a button. Each Configuration
Set can give the meter its own personality.
Nineteen Separate Menus for unmatched flexibility.
4x20 Display incorporates setup Instructions to simplify operation.
Finally, a meter with enough Real Estate to provide meaningful measurement headings and units.
Preloaded Coupler Calibration Table for the included MB-HF1 coupler.
All meter functions controlled from front panel - no PC interface needed.
---
Interfacing to Other Couplers
and External Analog Meters
Below, MB-1's Custom Calibration Features are being
used with a PowerMaster Coupler and a Daiwa Meter Movement

The MeterBuilder MB-1 is the only digital meter that provides the ability to directly interface to other manufacturers' couplers.
MB-1 can also directly interface to a wide range of external analog meters including surplus meters and meter movements from other manufacturers' equipment.

The photo below shows MB-1 being used with a competitor's coupler, the PowerMaster HF-3K, and an external Analog Meter. The PowerMaster coupler was calibrated with MB-1's Multipoint calibration feature. Power transmitted by a Yaesu Mark V is being applied to a dummy load through the PowerMaster coupler. The Forward and Reflected voltage outputs from the coupler are being fed into an MB-1 coupler port, processed by MB-1's software, and displayed on the 7-segment LEDs, the LCD, and the external analog meter.

The external analog meter below is the meter movement of a Daiwa 801 that has been disconnected from the internal Daiwa coupler and is being driven directly by MB-1 after being programmed using MB-1's Panel Meter calibration feature. Both needles of the Daiwa meter movement are being driven simultaneously by the MB-1. As with passive meters that incorporate crossneedle meter movements, both Forward and Reflected power are displayed simultaneously allowing the SWR to be read directly at the intersection of the two needles. MB-1's high processing rate provides a real time response when used with analog meters, including crossneedle meters.

7-Segment LED Configuration:

Top Left - Instantaneous (Forward) Power
Top Right - Peak Power
Bottom Left - SWR
Bottom Right - Selected Coupler - (PowerMaster coupler is connected to Coupler Port 3)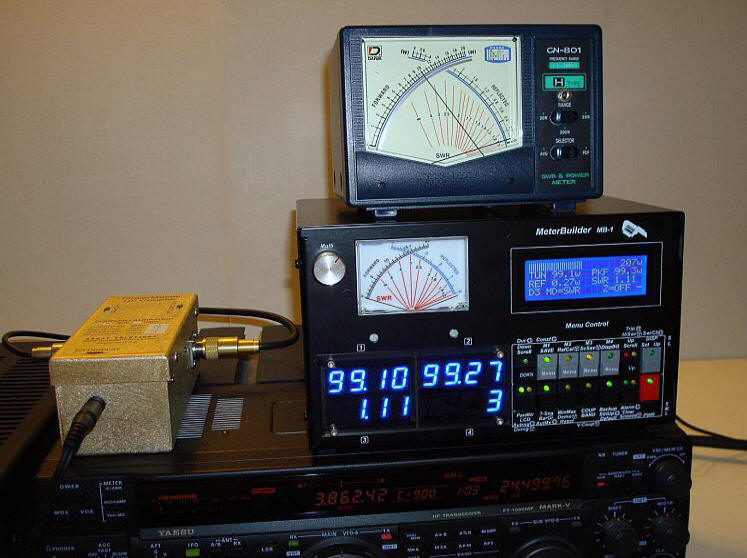 MB-1 comes standard with RED 7-segment LEDs. Green 7-segment LEDs are included in the Expansion Kit.
Since the 7-segment displays are installed on sockets, they can be easily replaced with other colors as shown in
the picture above. Any .52 inch (13.2 mm) common cathode display that meets the current requirements can be used.
---
For SSB operation, Average Power is the best indicator of a station's talk power. It is useful for optimizing your audio and compressor settings and helps you to quickly spot when something is not set properly. Then why do the other popular meters recommend that you set the mode to Peak Power for SSB?
You may be surprised to learn that for those digital meters that offer an average power mode, most do not provide a meaningful number when displaying average power.
---
---
---